New South Wales Department of Education
Australia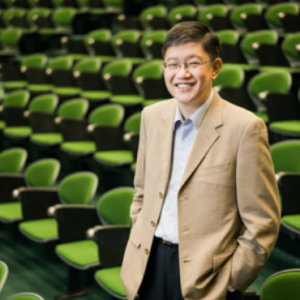 National Institute of Education, Nanyang Technological University
Singapore
Faculty of Education, UBC
Canada
---
Dr. Asmaa Al-Fadala
Dr. Asmaa Al-Fadala is the Director of Research and Content Development at WISE, an initiative of Qatar Foundation. She is also a visiting fellow in the Department of School Education and Policy at Northwestern University in Evanston, Illinois, USA, and serves on the program committee of Hamad Bin Khalifa University's School of Public Policy.
Dr. Al-Fadala has twenty years of professional experience in K-12 education and higher education. In her current work at WISE, Dr. Al-Fadala is leading the research team in support of the QF CEO's Office in a number of projects and initiatives, including the Empowering Leaders of Learning Program (ELL), which supports school leaders in navigating school improvement processes; the Agile Leaders of Learning Innovation Network (ALL-IN), an international network of school leadership experts and practitioners aimed at raising awareness of educational leadership policy globally through research and advocacy; and the WISE-Academyati Innovation Lab Project, an early childhood education research initiative of Qatar Foundation focused on learner and educator development in progressive school settings. Dr. Al-Fadala's research interests include leadership for learning, school improvement, entrepreneurship education, teacher professional development and educational reform.
Prior to joining WISE in 2014, Dr. Al-Fadala was an associate policy analyst at the RAND-Qatar Policy Institute. She has also taught in the College of Education at Qatar University, and worked at Qatar's Ministry of Education and Higher Education as a teacher and then as the head of the science department. She is also a fellow at Qatar Leadership Centre (QLC), an initiative of His Highness Sheikh Tamim bin Hamad Al-Thani, Amir of the State of Qatar. She is widely published in the field of educational leadership and policy, and author of the book Qatari School Leadership Portraits: Lessons Learned from Education for a New Era Reform (HBKU Press, 2019).
Dr. Al-Fadala is a member of the Comparative International Education Society (CIES), and the International Congress for School Effectiveness and Improvement (ICSEI). She also serves as an advisor for the Asia-Pacific Economic Cooperation's education strategy and is a board member at Qatar Academy Sidra school in Doha. She is also a jury member for Riyada award, the Entrepreneurship Award in Oman. She is a board member at the Diplomatic Courier. Dr. Al-Fadala holds a Ph.D. and M.Phil. from Cambridge University, UK, in Educational Leadership and Policy, and an M.A. in science education from Brighton University.
---
Brad Baker
Brad is a proud member of the Squamish Nation and carries the ancestral name Tsnomot, which he shares with his late grandfather and father. Brad has been an educator for 25 years in the North Vancouver School District. For the last 8 years his position has been District Principal with the portfolios of Indigenous Education, Careers, and Safe and Caring Schools.
Brad was recently selected to the 2017 Governor General of Canada's Leadership Conference. He was 1 of 250 leaders from across Canada that came together to develop strategies on how to move Canada forward in the next 150 years. Brad was the recipient of the Indspire Guiding the Journey National Award for Leadership in Indigenous Education in 2014. He has been a member of the British Columbia Principals and Vice Principals Aboriginal Education Leadership Committee and the British Columbia School Superintendents Association Aspiring Aboriginal Leadership Program. Brad has had the opportunity to enhance the awareness of the values of Indigenous Education that leads to dialogue through his presentations across Canada and the United States. Recent highlights have included presenting at the National Gathering of Indigenous Education in the years 2014, 2015, 2016, 2017, and 2018. Brad also presented at the National Indian Education Association's (USA) annual conference in 2016. He was the keynote speaker at the 37th Annual Catholic Educators' Conference in Vancouver and more recently at the First Nations Education Steering Committee's Annual Conference. He has provided leadership to districts across British Columbia on Indigenous Education. One of Brad's mottos is for all of us to understand "Truth Before Reconciliation" and to "Go Forward With Courage." Brad is currently enrolled in the Doctor of Education program at the University of British Columbia.
---
Dr Karen Edge
Dr Karen Edge is currently a Reader in Educational Leadership at UCL Institute of Education and recently served as Pro-Vice Provost (International) at University College London, UK. Karen has conducted research in over 30 countries and has recently completed a 6 jurisdiction study of teacher motivation and retention. Karen's Global City Leaders Project worked with Generation X (under 40 year old) school leaders in London, New York City and Toronto to understand more about their work, lives and ambitions. Karen is also preparing two books on Generation X leaders (Routledge) and City-based education policy contexts and the influence on school leaders (Bloomsbury). She sits on ESRC (UK), Danish and Swiss National Research Review Panels and the Advisory Panel for International School Leadership Principals in Ontario. She is Past Editor-in-Chief of Educational Assessment, Evaluation and Accountability (EAEA) and a current Editorial Board Member for EAEA, School Leadership and Management and Leadership and Policy in Schools. She completed her PhD in knowledge management and educational reform at the Ontario Institute of Education/University of Toronto. Karen is a highly sought after keynote speaker. She is known for being able to blend theory and practice with insight and humour.
---
Dr. Blye Frank
Dr. Blye Frank was appointed Dean of the Faculty of Education at The University of British Columbia for a five-year term, effective April 1, 2011. Dr. Blye Frank's appointment as Dean of the Faculty of Education was extended for another five-year term beginning July 1, 2016.
A scholar and advocate for social justice and equity with over four decades working in education, Dr. Frank is an experienced educator and administrator who brings a strong commitment to excellence in research, teaching and academic leadership.
Dr. Frank has an active research career and is a recognized expert in the field of gender studies with academic interests that include masculinity and the sociology of boys' and men's health. He has held major research grants from the Social Science Humanities Research Council of Canada for research in the area of masculinity and schooling.
In 2006, Dr. Frank was awarded the May Cohen Gender Equity Award by the Association of Faculties of Medicine Canada, in recognition of outstanding effort or achievement of an individual, program, department or school in improving the gender equity environment in academic medicine in Canada. He has also received awards for teaching (Mount Saint Vincent Alumnae Award for Teaching, 1997 and Association of Atlantic Universities Distinguished Teacher Award, 1998), and for research excellence (Mount Saint Vincent Award for Research Excellence, 1999).
He has been called upon to provide advice on issues of equity in schools and health care environments. He is one of five national researchers developing the Health, Illness, Men and Masculinities (HIMM) theoretical framework, which is intended to inform methodology and analysis of how the social construction of masculinity intersects with men's health and wellbeing.
Dr. Frank was the President of the Association of Canadian Deans of Education (ACDE) and is currently the Treasurer for the Association of British Columbia Deans of Education (ABCDE).
Dr. Frank also serves as Dean at the UBC Okanagan School of Education when the Faculty of Education Vancouver and the Faculty of Education Okanagan merged in June, 2018. Dr. Frank also serves as the Special Advisor to the Dean on Education Innovation, Faculty of Medicine.
---
Drs. Judy Halbert and Linda Kaser
Dr. Judy Halbert and Dr. Linda Kaser lead the Transformative Educational Leadership Program at the University of British Columbia (telp.educ.ubc.ca) and the Networks of Inquiry and Indigenous Education (noii.ca). Linda and Judy have served as teachers, principals, district leaders and policy advisors with British Columbia's Ministry of Education.
They are deeply committed to achieving equity and quality for all learners—and to networking for innovation and improvement across systems. To that end, they served as Canadian representatives to the OECD international research program on Innovative Learning Environments. They are pleased to support inquiry networks in British Columbia, the Yukon, England, Catalonia, Sweden, New South Wales, the Northern Territories and Queensland.
In 2019, along with NOIIE leader Debbie Leighton Stephens, they were awarded the prestigious Cmolik Prize for the enhancement of public education in British Columbia.
They are the co-authors of The Spiral Playbook (2017), System Transformation for Equity and Quality (2016), Spirals of Inquiry (2013), Leadership Mindsets: Innovation and Learning in the Transformation of Schools (2009) and with Helen Timperley, A Framework for Transforming Learning in Schools: Innovation and the Spiral of Inquiry (2014).
---
Dr. Stephan Huber
Stephan Huber is Head of Research and Development, Member of the University Leadership, and Head of the Institute for the Management and Economics of Education (IBB) of the University of Teacher Education (PH) Zug (Switzerland). He also is a member of the School of Education (ESE) at the University of Erfurt, Senior Research Fellow Hong Kong Institute of Education, Adjunct Professor Institute for Education Research Griffith University Brisbane. He held guest professorships at universities in India, Austria, Switzerland and Cyprus, is member of the academic advisory boards of different national and international associations and institutions, is editor-in-chief of EAEA and member of the editorial board of several journals. He is also head of the national interdisciplinary research consortium of the Young Adult Survey of Switzerland of the Swiss Federal Surveys of Adolescents. His areas of interest are organisation and system change, education management, school effectiveness, school improvement, professionalisation of teachers and school leaders. He conducts qualitative, quantitative, mixed-method, international comparative research. For more than 15 years, he has hosted and chaired the World Education Leadership Symposium (WELS.EduLead.net) with around 850 participants from 75 countries.
---
Lisa McCullough
With over 30 years of experience in education, Lisa McCullough has been Superintendent of the Sea to Sky School District for the last eight years. McCullough is a passionate leader with a strong vision to create safe, purposeful, and powerful learning environments. A recent career highlight includes the fast–improving six-year graduation completion rates of students of Aboriginal ancestry, currently at 95%, Special Needs at 95%, and All students, currently at 100%. Committed to diversity as a strength, McCullough works closely with the local Board of Education on the importance of an equitable strategic plan for all students.
---
Ann McIntyre
Ann McIntyre is an experienced principal, superintendent, and Australian state policy leader who is recognised for her work in quality teaching, leadership, and school and system improvement. Ann's research and professional learning draws together policy and school practice to explore the power of aligning teacher, leader, and system learning to impact student learning.
Ann is the Australian researcher for the International Teacher Policy Study conducted with the University of Stanford. The publications from this study, "Empowered Educators in Australia" and "Empowered Educators around the World", focus on the interrelationship between policy and practice in examining how high performing educational systems empower teachers and leaders to achieve strong results. Ann is the NSW President of the Australian Council of Educational Leaders, member of the Australian Institute of Teaching and School Leadership Expert Standing Committee, the University of Sydney Teacher Education Advisory Board, and is International Expert in leadership development for the NSW Department of Education. As the Director of Professional Learning and Leadership in NSW Australia, Ann designed system innovations and reforms that significantly enabled teacher and leader quality.
Ann has received numerous Australian educational excellence awards and while principal, the school was acknowledged as being "on the leading edge of best practices in teaching and learning." Ann is committed to living in a world in which all children, irrespective of their background, receive an education that enables them to thrive.
---
Pak Tee NG
Pak Tee NG [National Institute of Education (NIE), Nanyang Technological University (NTU)] is a Singaporean educator who is deeply involved in the development of school and teacher leaders. He considers it a privilege to be able to educate a fraternity of students who are educators themselves and who build others through their leadership, work and lives. He encourages educators to walk a path not easily travelled, with love, courage and resilience.
Pak Tee began his career as a Mathematics teacher after reading the discipline in Cambridge University under a scholarship he gratefully received from his country. He served a stint as a Ministry of Education (MOE) officer before joining the NIE as an academic. At the NIE, he has previously served as Associate Dean Leadership Learning and Head of the Policy and Leadership Studies Academic Group. His main work is in education change and leadership.
Pak Tee has authored/co-authored over a hundred publications. International media often seek his views on education change. He has served as the executive editor/co-editor/editorial adviser of a few international refereed journals and is currently an editorial board member of more than ten journals. He is the co-editor of the Routledge Leading Change book series. One of his books, "Learning from Singapore: The Power of Paradoxes", is a Routledge best-seller.
Pak Tee has been invited to speak at many events around the world, for example, Google Global Education Symposium, Yidan Prize Summit, International Baccalaureate Global Conference, and Harvard University Graduate School of Education's Global Education Innovation Initiative Conference. He is currently a member of Scotland's International Council of Education Advisers and a Life Member of Clare Hall, Cambridge University.
Pak Tee has been conferred awards such as the National Day Award of Public Administration Medal (Bronze) for merit and service to education; and the Award for Outstanding Contribution to the Asia Pacific Educational Research Association. He has also won various teaching awards and has been conferred a Fellow of NTU Teaching Excellence Academy. However, his greater reward is a fraternity of students who pay it forward through their contribution and commitment to education.
---
Lynne Tomlinson
Lynne Tomlinson is Assistant Dean of Professional Development and Community Engagement in the Faculty of Education at the University of British Columbia.  She facilitates collaborative working relationships between the Faculty and B.C. school districts for the development and provision of programs that meet the current and growing needs of educators and learners.  
Lynne teaches Aboriginal Education in Canada as part of the Teacher Education Program.  She continues to work closely with local Skwxwú7mesh, xʷməθkʷəy̓əm and səlil̓ilw̓ətaʔɬ cultural advisors to develop school programs and build relationships with First Nations, Metis and Inuit families connected to local school districts. 
Lynne has served as teacher, coordinator, principal and district leader in B.C. public schools. As a regional leader for the Networks of Inquiry and Indigenous Education, Lynne works with educational leadership teams both provincially and internationally to support networks focussed on the Spiral of Inquiry.  She is a presenter on innovative teaching and learning and educational networking to improve student achievement.  
Lynne is passionate about improving the life chances of all students. You can follow Lynne on Twitter @ltnpbs